Send Money In Person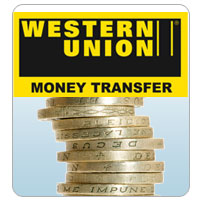 When you'd prefer to handle your money transfer in person, we're nearby to help. Our friendly, knowledgeable agents can make your money transfer happen with ease.
Money In Minutes Service
When you need the money to be there in minutes.1, 2
Visit us instore

Complete the Send Money form.

Give the agent the completed form with the applicable funds (including transaction fee) in cash.3

Save your receipt and share the tracking number (MTCN) with the receiver for pick up.
1 Read the restrictions and special notes for this service.
 2 Funds may be delayed or services unavailable based on certain transaction conditions, including amount sent, destination country, regulatory issues, identification requirements, differences in time zones or selection of delayed options. Additional restrictions may apply. See Send Form Terms and Conditions for details..
3 Western Union also makes money from currency exchange.